Here are my completed "made up socks" done with Lorna's Laces... I finished them in California on my trip, but I still need to take one of the cuffs apart and re-bind-off since it was a little too tight on top... Yup, today is the day to get a few UFO's finished before I head back into Clapotis territory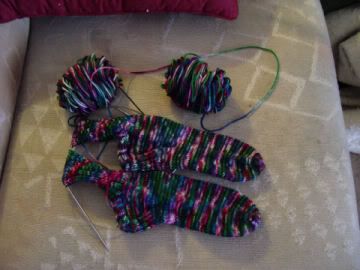 Here is one of the pairs of socks I started while out in CA... I am just doing plain old socks toe-up with Toasty Toes yarn... I am pretty close to finished on this pair... Figure I will try to get the cuff finished off today and get this pair cast off also...
Here is the progress on the Clapotis... I started it on Thursday afternoon. I just did the first Drop Stitch... COOL!!! I was wondering how one little drop stitch would make such a cool ladder, now I know... I am using Rowan Baby Soft yarn, so I am not expecting any real stretch to it... I figure it would be a nice wrap to have at work...
Man, my blogger is not working well at all... I got over the problem of not even being able to see my blog... Now, I am not able to upload pictures... We took care of that problem by uploading the pix to Photobucket.com and transferring the links... Thank Goddess I still have some rudementary HTML language programming left in my brain, since I am doing this post strictly through HTML... Fun...
Last night, hubby and I went out to PF Chang's to celebrate my birthday a couple of days early... Dinner was very nice... Had my favorite lettuce wraps and lemon chicken... The PF Chang's Green Tea drink (not tea, the alcoholic drink) was really yummy and I had some with dinner... MMMMM
Hubby and I have been talking about getting a hot tub for a few years now... We have the perfect spot in the back of the house to put it... On Friday, hubby called me at work and told me he found a 5 seater hot tub (complete with cover) at a neighbor's moving sale for $400, do we want to buy it??? WHAT??? ARE YOU KIDDING??? HECK YEAH!!! So on Thursday, our pre-owned hot tub is coming home ;-) He called an electrician to get the 220 wired out the back wall by the kitchen so we can plug this in... There was some sediment from the water here in NM, but other than that, the tub looks to be in good condition... I figure pre-owned saving a few thousand dollars is a good thing!!! So, question to the Albuquerque Stitch and Bitch GRRLZ, anyone up for a hot tub gathering when the weather warms up??? Yup, this was a GREAT birthday surprise... It won't be installed in time for my b-day on Tuesday, but hopefully we can get it up in running in the next couple of weeks...
It's Sunday... Just finished watching the Formula One race, now have the TV ready for the NASCAR race... Love watching cars go roundy-round and knitting and sipping strawberry margaritas...